Welcome one, welcome all.
Today im sitting on 500G again spread over my alts but with the added bonus of +-2000G worth of items on the AH.
Yet thats not the topic for todays post, my topic is the kick butt stuff I have done over the last few days.
Seeing as Midsummer Festival is yearly I thought it appropriate to complete as much of the achievements as possible
and thus get my Title and some more goodies.
Problem is that I am only buying WotLK later this week so the "Juggle 40 Torches in 15 sec" in Dalaran is out for the time being and thus the title has to wait.
I have however been running some instances and have been grinding
Ahune, Frost Lord
in Slave Pens, Coilfang for the last few nights.
I have been doing this for good reason and that is to get the staff he drops for my main toon.
but last night I scored big time as the cloak I wanted dropped as well as won on a greed roll for the rare pet he drops: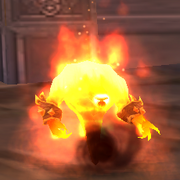 The pet was super lucky as it only drops approx 1.2% of the time.
Out of the +-10 times I have run this boss I have not yet seen the staff.
Run to you (not the Whitney song!)
Well well well...
Long time coming this, finally had time to go and get my Flying mount training and mount and seeing as my tailoring skill isnt high enough yet to use my Magic Carpet (which I got for bargain 40G on my server) I chose to purchase a
Snowy Gryphon
for my first flying experience.
Also I played Alterac Valley on a losing side till it came out of my ears to get 50 Alterac Valley marks of Honour to buy a
Stormpike Battle Charger
and so far I am impressed!
So far it has gone well. Making money from daily quests and doing the Midsummer Achievements has nicely bolstered my income as an average of 10G per 1xHorde Flame and 1xAlliance Flame has been quite welcome.
I have also been trolling the AH for quest items such as Fel Armaments and Marks of Segeras for my main to Rep grind.
I have also been buying up the regular suspects such as mid-high level ore's. Specially Titanium as Titanium unit prices has gone up to 19G per unit on my server.
Stuff i have been buying up:
Bear Flank (for cooking)
Small Furry paw (for Darkmoon Faire Rep grinding)
Dark Iron Ale Mug (for Jubling Pet at Darkmoon Faire)
Various herbs (for pigments)
Cheap Gems (selling for less than 30-40% of value)
Well thats all I got for today. Comment or let me know if you got anything to share.